Family Halloween Fun Day or Weekend
Registration for the 2019 Halloween Event has now closed.  Please direct all inquiries to Lutherlyn's Office at 724-865-2161.
Saturday, October 26th, 2019
     from 3:00 pm - 7:00 pm
                   OR
Friday, October 25th through Sunday, October 27th 2019
Registration Deadline: October 14, 2019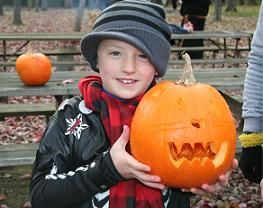 ---
Program Focus
This retreat provides families with an opportunity to spend time together as a family celebrating the Halloween season for a day or entire weekend (you choose!) while enjoying the beauty of autumn at Lutherlyn.
In addition to some fun camp activities, like a hay ride and campfire, you will get to carve pumpkins, play carnival games, and go trick-or-treating around camp.
____________________________________________________
Halloween Family Fun Day at Lutherlyn
October 26, 2019
$15 per person with a maximum family cost of $75.  (A family is parents and children. Additional friends or extended family members are $15 each.  Children age 2 and under are free of charge.)
A tentative schedule of events can be found below.  Families will depart at approximately 7:00 pm.
** If you are coming for the whole weekend, this afternoon of fun and fellowship is included in the weekend registration fee. **
Tentative schedule: 
3:00 pm – Pumpkin Decorating/Carving, Hay Rides, Kid's Halloween Carnival, Craft, Marshmallow Roasting, Hike, Games
4:45 pm – All Saint's Worship
5:00 pm – Dinner
6:00 - Trick-or-Treating** (kids 12 and younger)
7:00 pm – Go in Peace
** Each family will be asked to bring candy/items to pass out for trick-or-treating.  After the registration deadline you will be notified how many kids to be prepared for prior to the event.  Adults will be assigned to a location to pass out treats as Lutherlyn staff leads the kids through camp.  Trick-or-treating is limited to children 12 or younger.
____________________________________________________
Halloween Family Weekend Getaway at Lutherlyn
Friday, October 25th - Sunday, October 27th, 2019
Check-in Friday evening and stay until Sunday afternoon.  The weekend registration fee includes lodging*, meals, supplies and each of the activities listed on the following tentative schedule.  Families enjoying the Family Halloween Fun Day will join you Saturday from 3:00 pm until 7:00 that evening.  You can view a tentative schedule for the entire weekend in the brochure above.
Adults: $115 per person
Kids (12-18 years old): $95 per person
Kids (6-11 years old): $65 per person
Kids (3-5 years old): $35 per person
Kids (2 and younger): free of charge
Family max: $375 (A family is parents and children.  Additional friends/extended family pay according to the rates listed above.)
*Guests are responsible for bringing twin bedding, towels, and toiletries.
____________________________________________________
Facilities
Dining:
Meals are served buffet style at designated meal times in our Dining Hall.  Coffee, tea, and water are available during daylight hours.  Our chef can accommodate dietary needs as necessary.  Please include information regarding your needs when registering (food allergies, gluten free, vegetarian, etc.) so we may plan appropriately for your stay.  
Accommodations:
Our cabins are equipped with central heating, carpeting, and full bathroom facilities (shower, toilet, and sink).  Each family style cabin features 6 twin beds.  Guests provide their own linens (twin bedding & towels) and toiletries.
Registration
Space is limited.  Registrations must be received by the deadline (October 15, 2018).  We encourage you to use the online form below to complete your registration.  Registrations may also be completed using the form found within the printable brochure above.  You can also pick up pre-printed forms at the Lutherlyn office during regular business hours (Monday - Friday, 9 am - 4:30 pm).
Cancellation Policy:  
A $40.00 non-refundable cancellation fee is in effect for cancellations made within 14 days of the scheduled retreat.
How to get to Lutherlyn
Please only enter Lutherlyn's grounds via our main entrance from Dick Road.  If you're using GPS our physical address is 500 Lutherlyn Lane  Butler, PA 16001.  After checking in we can direct you to your assigned cabin if you're staying over night.  
From the West:
Take Interstate 79 to Route 422 (the Butler/New Castle exit) and head east 8.2 miles. Make a right hand turn at the 84 Lumber onto Dick Road. The main entrance to the camp is 1.5 miles down the road. The camp driveway will take you directly to the main parking lot and the camp office.
From the East:
Take Route 8 to Route 422 and head west (towards New Castle) 7 miles to the 84 Lumber. Make a left hand turn on to Dick Road. The main entrance is 1.5 miles down the road. The camp driveway will take you directly to the main parking lot and the camp office.
---
Halloween Fun & Fall Family Online Registration
Cancellation Policy:
Cancellations more than two weeks prior to event will receive a refund minus a $40 cancellation fee.  Cancellations less than two weeks prior to the event are not refundable.
Participant/Contact Information
Program Selections
Secure Payment Information
Your transaction will be processed securely.  By submitting this form, you agree to the card being charged at the time of form submission, and to the terms and policies listed above.  You will receive an automatic email confirmation.  All registrations are reviewed by a member of Lutherlyn's staff who may contact you, in the event of an error or omission, using the contact information you have provided. 
If you have any questions please contact the office at 724-865-2161 or email@lutherlyn.com.