Frequently Asked Questions
Included is a list of some questions that are often asked the staff here at Lutherlyn. If you can't find the question you wanted to ask, don't hesitate to contact us at 724-865-2161 or email@lutherlyn.com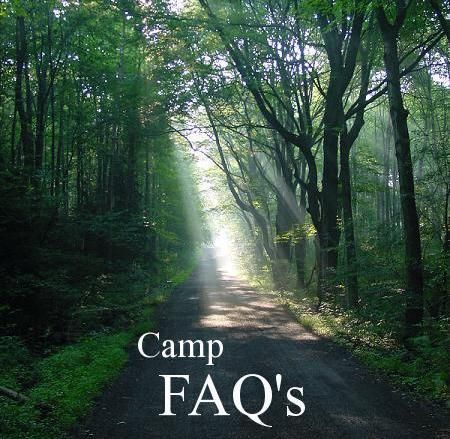 ---
What does your organization do?

Lutherlyn is a year-round outdoor ministry which operates on 660 acres of scenic woods in Prospect, Pennsylvania (Butler County). Lutherlyn offers an exciting range of programs which include:
- Summer Camp
- Adventure/Team Building
- Environmental Education
- Equestrian Center
- Retreats & Group Rentals

Lutherlyn's Core Purpose Statement is: Lutherlyn is a God-given place to be accepted, challenged, and sent.

It takes a wide variety of volunteers to keep all of Lutherlyn's programs and facilities at their best. During summer camp we need volunteer nurses, grandparents, chaplains, as well as individuals to help in the office and at the equestrian center. Throughout the winter, spring, and fall we need help with a huge assortment of indoor and outdoor projects ranging from picking up sticks or raking leaves to projects that require special tools or skills such as demolishing old cabins, roof repairs, and other "big" projects.

Lutherlyn has a long standing promise to never turn a child away from our summer camp programs for financial reasons. When you make a gift to Lutherlyn you help us keep this never-broken promise. Most importantly your monetary gifts provide scholarships (we call them camperships) for children who are unable to afford the camp fee. Donations also help us maintain the cabins, buildings, facilities, and worship spaces (indoor and outdoor) our campers enjoy.

Lutherlyn promises to never turn a child away from summer camp for financial reasons. Lutherlyn can keep this promise thanks to the many individuals, families, congregations, foundations, and businesses that support camp with prayers, participation, volunteering, and financial gifts.
Campership request forms are available on the downloads page of our website or by contacting the camp office at 724-865-2161 or email@lutherlyn.com.

In addition to Family Camp, a week long "summer camp" just for families which is offered each July, families can enjoy a variety of day-long or weekend retreats at Lutherlyn which are offered throughout the fall, winter, and spring. For example LEEP's Saturday Safari's give you the chance to spend a Saturday morning exploring the great outdoors, and our Family Getaways provide day or weekend long options to enjoy seasons like spring, Halloween, and Advent together. You can learn more about all our family-friendly programs on our Events/Retreats pages.

In addition to great events and retreats like our Crafting Retreats, Annual Quilt Show, Wild Women Getaway, Fathers & Sons Retreat, and fun fundraising events Lutherlyn's Environmental Education Program, Equestrian Center, and Adventure Programs have a variety of events throughout the year. You can check out all the upcoming events on Lutherlyn's calendar on our Events/Retreats page. If you'd like a more casual visit to camp you can reserve a place to stay just to enjoy the beauty (and quiet) Lutherlyn has to offer by calling the camp office at 724-865-2161.

Lots of families, congregations, scout groups, clubs, and organizations hold retreats, meetings, sleep-outs, and picnics at Lutherlyn. To reserve meeting spaces, cabin(s), or outdoor areas please contacting the camp office at 724-865-2161. Please have an approximate number for your party when you call so we can suggest facilities and provide accurate cost estimates.

As Lutherlyn's schedule permits, weddings may be booked at camp. In addition to beautiful outdoor worship spaces like the Amphitheater, Chapel Hill, and Lakeside we have large indoor spaces in the event of rain. Additionally, Baker Chapel is a beautiful indoor venue for weddings. Lutherlyn does not host wedding receptions. Please contact the camp office at 724-865-2161 for more details or to schedule a tour. Tours are by appointment only and not available from June 1st – August 15th.

Yes! Families, scouting groups, clubs, school groups, individuals, and church groups are just some of the many people who reserve cabins for short stays at Lutherlyn.
Cabins rentals are subject to availability and should be reserved at least 72 hours in advance. Please contact the camp office at 724-865-2161 to check availability, pricing, or to reserve accommodations.

Of course, Lutherlyn has great indoor and outdoor spaces for family reunions, bridal and baby showers, retirement parties, and other family celebrations. Please note that pets are not permitted on Lutherlyn's grounds and alcohol is prohibited. To check availability, pricing, or to reserve a space please call the camp office at 724-865-2161.

Can I just come to visit or hike?

We invite guests to enjoy Lutherlyn at their leisure as our rental schedule permits (some large groups who rent Lutherlyn's facilities require exclusive use of our grounds and facilities). Typically, we do not permit visitors during our summer camp programs. We ask that guests notify the office of their visit by calling or stopping in so we know who is on campus at all times. Please note that pets are not permitted on Lutherlyn's grounds or in our buildings at any time. Additionally, for the safety of our staff, volunteers, and herd unattended guests are not permitted at the Equestrian Center. If you wish to visit the barn, we ask that you schedule your visit with a member of our staff.