Student Programs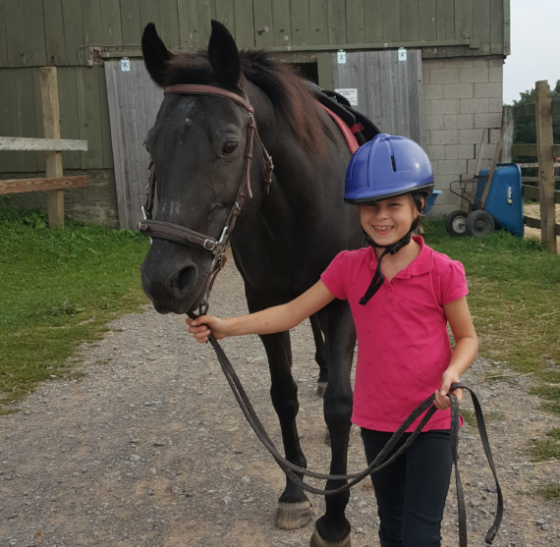 ---
Group & Private Lessons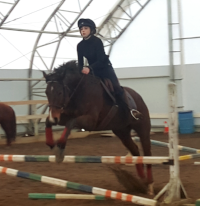 Group lessons are available for those aged 8 years old through adult.  Lessons are typically one hour long and have 3-4 students each.  All students learn grooming, tacking, ground handling skills, and riding.  Students may choose to learn English or Western techniques (or both).  Students who wish to learn more advanced riding skills have the opportunity to learn jumping, cross country, dressage, or take trail rides.
Private lessons are subject to instructor availability and structured to include grooming, tacking, and basic horsemanship in addition to riding time.
Students are paired with horses by their instructor based on rider age, height, weight, skill level, and temperament.  Our instructors can also provide personalized training for individuals who own their own horses and wish to focus on particular skill sets.  To discuss or schedule lessons please contact Carla at 724-496-5535.  If you wish to tour our facility, please contact us to schedule your visit.  For the safety of all guests, staff, volunteers, riders, and animals, LEC does not permit unscheduled guests.
Lesson Fees:
Private Lessons: $50 an hour
Group Lessons: $35 an hour
Half-hour Lessons: $25 each
If you prefer to pay for you lessons online with a credit or debit card quickly and securely, please visit lutherlyn.com/lessons.  
---
Home School Equestrian Gym Class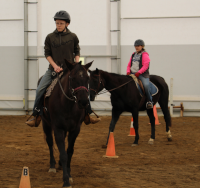 Our equestrian gym class is a program offered to home schooled students during school hours to allow them to earn gym class credits. These group lessons meet weekly, spending approximately two hours at the barn.  The students learn proper grooming and tacking skills as well as basic horsemanship on the ground. We incorporate horse care skills into each lesson. Weather and skill permitting, students will enjoy a trail riding during one class.   Horseback riding is a great way to build confidence, and enjoy the therapeutic benefits of horses.
For more information or to register your student please contact Carla at 724-496-5535.  She is often at the barn or in the arena teaching, so please leave a message if she isn't able to answer your call.
Sessions are offered in April, May, September, October, November, and December.  
All students must bring a completed Health History Form & Riding Release to their first class.  
---
Ladies' Day at the Barn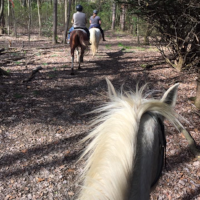 Join us for this unique opportunity for female fellowship and fun!  We are always busy and need to take some time to slow down.  Horses are 100% focused on the present.  Unlike humans, they don't dwell in the past or worry about the future.  Just being around them can help us to focus, slow down and become present and better attuned to ourselves, our environment and those around us.  In addition to learning about the nature of our equine friends, we will learn grooming, basic ground work, riding, and much more!  Weather and skill permitting, students may have the opportunity to take a trail ride through Lutherlyn's Enchanted Forest for one class.
JOIN US: March 16 and April 20
TIME:  2:00pm - 4:00 pm 
Each class is $40 and will be approximately two hours for women 21 and older.  No prior riding experience is necessary; this is great opportunity for beginners!
Boots and helmets are required (don't worry, the LEC has a supply available for use if you do not have your own).
All students must bring a completed Health History Form & Riding Release to their first class.  
For a schedule of sessions and availability or to register, contact Teresa at 724-996-4577.
---
Barn Buddies
This is a hands-on course in barn etiquette.  Students will be learning how the horses are fed and cared for, herd behavior, and will explore communication, self-awareness and trust. Taking care of another living, breathing creature and knowing that they are responsible for the well being of the animal they love so much is a feeling that cannot be duplicated anywhere else.  Through the powerful shared love for horses, our students find common ground to build relationships with peers.  At Barn Buddies children get a chance to work with one another, make friendships, problem solve together, and be apart of a team,  This unmounted horsemanship experience is a great way to learn about horses. 
This is a six-week course that will be held every Monday from 4:30pm - 6:30pm. Each six-week course is $60.
A new course begins on  March 4, April 22, June 3, August 5, October 7. 
Registration is required. To register Teresa at 724-996-4577. 
---
4-H Club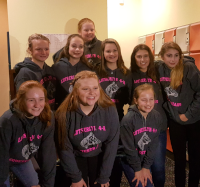 LEC is home to a 4-H group which encourages the development of youth leadership skills, public speaking, and giving back to the community.  In addition to helping with LEC events, our 4-H members have participated in the County Round Up, Big Butler Fair, 4-H Youth Council, and State 4-H Horse Show. 
If you'd like more information or are interested in joining our group, please contact Sue Stein at 724-822-3504.
---
Group Trail Rides
Guided group trail rides are available for groups of two to five by appointment.  These walk-only rides provide a relaxing pace through Lutherlyn's beautiful riding trails.  Riders must be age 12 or older and a 200-pound weight limit applies for all riders.
To discuss schedule availability, please call Carla at 724-496-5535.
---
Scout Programs
LEC works in conjunction with Lutherlyn's Adventure and Environmental Education Programs to provide customized programs for troops of boy scouts and girl scouts.  Contact the Lutherlyn Office at 724-865-2161 to discuss schedule availability and program suggestions.    
---
Indoor Arena Rental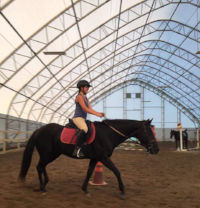 Our beautiful indoor arena is 85' x 150' and features sand footing and overhead lighting.  Pony Clubs, Horse Clubs, and 4-H groups have all enjoyed mounted meetings in our arena.  Rentals are subject to availability and must be made a minimum of 24 hours in advance. 
To discuss rental rates or schedule availability, please contact Carla at 724-496-5535.