Grown-Up Camp 
August 20-22, 2021

Registration Deadlines: 
August 8th, 2021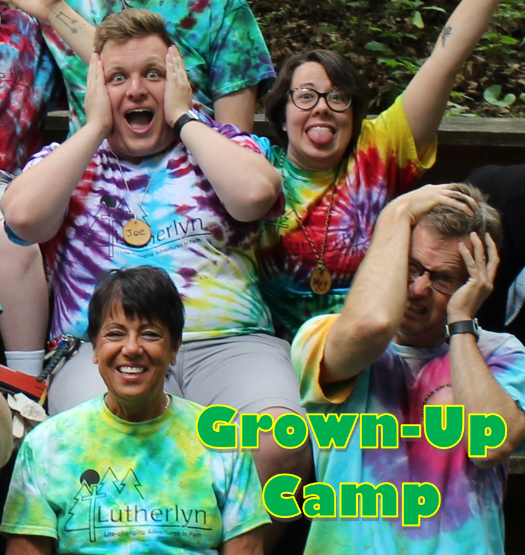 Who says camp is just for kids?
Grown-Up Camp includes all of the fun and excitement of kid camp with some relaxation, fellowship, and extras for adults!  This grown-ups only retreat is the perfect opportunity to enjoy all the fun of kid camp but with some changes and additions specifically for grown-ups.  Anyone age 21 or older is invited to join in the fun!  
You'll be able to enjoy camp classics like campfires, hikes, crafts, ropes course, and sports.  All of the activities are optional to provide as much or as little time as you'd like to relax or explore Lutherlyn's beautiful grounds and trails.
The $120 - $150 fee for these fun filled days at camp includes all meals*, program, snacks, and lodging (cabins are equipped with full bathroom/shower, heat, and carpeting).  Guests are responsible to bring their own linens and toiletries.
You can register for this grown-up getaway at https://lutherlyn.campbrainregistration.com.  We prefer online registrations as they conserve resources and reach us quickly.  If you are unable to complete the online form below, or wish to complete a paper registration use the form below.  
Lutherlyn's Mask Policy:
At this time, for adult-only retreats, vaccinated individuals do not need to wear a mask.  Unvaccinated individuals are required to wear a mask inside Lutherlyn's buildings (including the dining hall).  
Links & Downloads:
---
Tentative Schedule
The schedule below is tentative.  When you check-in, you will receive a finalized schedule and camp map.
Friday Evening:
     6:00 - 7:30 pm     Arrival
     7:30 - 8:30 pm     Get to know you, Devotions, Announcements
     8:30 pm     Campfire and S'mores
     9:15 pm     Hangout around the fire, Night Hike
Saturday:
     8:00 - 9:00 am     Breakfast
     9:30 - 10:00 am     Bible Study
     11:00 am - noon     Nature Activity
     12:15 pm     Lunch
     1:00 - 2:30 pm     Pool Party
     3:00 - 5:00 pm     Activity Time (Hay Ride, Geology Hike, Climbing Wall, Jump Pillow, Relax)
     5:30 pm     Dinner
     6:00 - 8:00 pm     Evening Activity
     8:30 pm     Campfire
     9:00 pm     Beers & Brats*/Wine & Cheese* around the fire
Sunday:
     8:00 - 9:00 am     Breakfast
     9:30 - 11:30 am     High Ropes Course & Canoeing
     noon     Lunch Campfire Cookout
     1:30 - 3:30 pm     Crafts & Archery
     3:00 pm     Worship
     4:00 pm     Group Photo & Go in Peace
Activities available throughout the retreat include:
- Recreation Building
- Discovery Room
- Hiking Trails
- Board Games
- Sports Fields
- Outdoor Lawn Games
- Snacks, Drinks, & the Fireplace in Stewart
- Dining Hall Porch - Rocking Chairs
- Beautiful Outdoor Spaces
- Naps!
- We also encourage you to bring any books/hobbies/crafts you might enjoy.
* No need to bring any beer or wine, we will provide a variety of drinks (alcoholic and non-alcoholic) for everyone to enjoy.
---
Facilities
Dining:
Meals are served buffet style at designated meal times in our Dining Hall.  Coffee, tea, and water are available during daylight hours.  Our chef can accommodate dietary needs as necessary.  Please include information regarding your needs when registering (food allergies, gluten free, vegetarian, etc.) so we may plan appropriately for your stay.  
Accommodations:
Our cabins are equipped with central heating, carpeting, and full bathroom facilities (shower, toilet, and sink).  Each family style cabin features 6 twin beds.  Guests are responsible to provide their own linens and toiletries.
Registration
Space is limited.  Registrations must be received by the deadline listed above.  We encourage you to use the online form below to complete your registration.  Registrations may also be completed using the form found within the printable brochure above.  You can also pick up pre-printed forms at the Lutherlyn office during regular business hours (Monday - Friday, 9 am - 4:30 pm).
Cancellation Policy:  
A $40.00 non-refundable cancellation fee is in effect for cancellations made within 14 days of the scheduled retreat.
How to get to Lutherlyn
Please only enter Lutherlyn's grounds via our main entrance from Dick Road.  If you're using GPS our physical address is 500 Lutherlyn Lane  Butler, PA 16001.  After checking in we can direct you to your assigned cabin if you're staying over night.  
From the West:
Take Interstate 79 to Route 422 (the Butler/New Castle exit) and head east 8.2 miles. Make a right hand turn at the 84 Lumber onto Dick Road. The main entrance to the camp is 1.5 miles down the road. The camp driveway will take you directly to the main parking lot and the camp office.
From the East:
Take Route 8 to Route 422 and head west (towards New Castle) 7 miles to the 84 Lumber. Make a left hand turn on to Dick Road. The main entrance is 1.5 miles down the road. The camp driveway will take you directly to the main parking lot and the camp office.
---