Christian Schools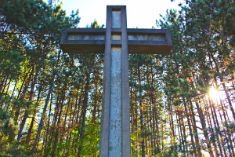 Thousands of students and teachers from more than 100 different schools in our region visit the Lutherlyn Environmental Education Program (LEEP) each year to take part in what many of them have called, "the best field trip they have ever been on." As a ministry of the Evangelical Lutheran Church in America, we are the only environmental education center in the region that offers field trips based on an understanding of God's creation, and our responsibility as its stewards.
For Christian schools, our programs are all based on God's call in Genesis 1:28 ("I am putting you in charge of the fish, the birds, and all the wild animals.") and Genesis 2:15 ("Then God placed humans in the Garden of Eden to cultivate it and guard it."). We strive to teach students about science and the wonder and intricacies of what God has made through exciting, hands-on activities. LEEP offers a unique opportunity for students to experience creation from a Christian perspective and not as the realm of "Mother Nature." We offer programs for all age groups, from pre-school to high school, and customize every field trip to meet the specific educational needs and interests of our guests, whether they are staying for a few hours or a few days.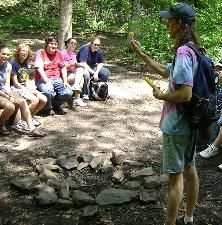 School groups may also schedule an Overnight Field Trip, for two or more days packed with learning, exploration and fun! These trips are also great for team building and the LEEP staff can facilitate that growth through group building activities. Lutherlyn's many outdoor worship areas are also available to schools for their use while here. Overnight stays are available during any of our seasons.
During our Maple Sugaring Field Trips in February and March, students learn about the historical importance of maple sugaring among the Native Americans and early American pioneers, the biology of maple trees, and how to turn sap into syrup. Maple sugaring is a great opportunity for students to experience the intricacies of God's creation through an understanding of trees and how they function.
---