Crafting Retreats at Lutherlyn
Do you feel like you need a vacation just so you can finish a project or try your hand at a new crafting hobby? 
Lutherlyn's Crafting Retreats are the perfect opportunities for you!
You choose the length of your stay and bring your quilting, scrapbooking, or other craft supplies, and we take care of the rest!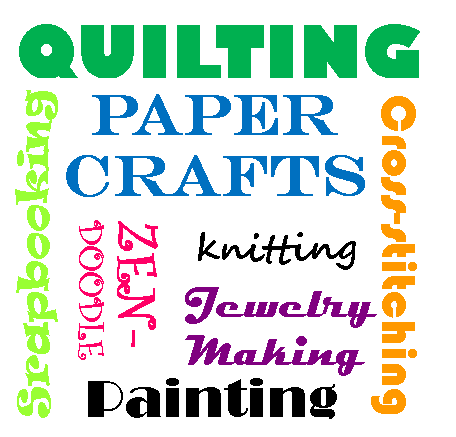 Retreat Focus
Lutherlyn's Crafting Retreats provide time to work on projects while offering a lot of fun and fellowship with fellow crafters.  You'll be provided with your own table/work space with access to electricity.  Our Crafty Ladies have varied interests such as quilting, weaving, scrapbooking, knitting, jewelry making, painting, and many others.  Some ladies come with friends and some arrive alone and make friends while crafting, but everyone shares a lot of laughs. 
There is a special social hour on Saturday evening with a raffle basket drawing (every retreat participant will be entered), the popcorn machine will be in the lobby every afternoon, "show and tell" on Sunday morning, and other fun surprises.
2024 Schedule of Retreats
January 9-14, 2024
Registration Deadline: January 1
March 19-24, 2024
Registration Deadline: March 11
September 3-8, 2024
Registration Deadline: August 26
November 19-24, 2024
Registration Deadline: November 11
Tentative Retreat Schedule
Tuesday:
2:00 pm - Arrivals begin
5:15 pm - Dinner
Evening Snack
Wednesday:
8:15 am - Breakfast
12:15 pm - Lunch
5:15 pm - Dinner
Evening Snack
Thursday:
8:15 am - Breakfast
12:15 pm - Lunch
2:00-3:00 pm - Camp Store Open
5:15 pm - Dinner
Evening Snack
Friday:
8:15 am - Breakfast
10:00 am - Camp Store Open
12:15 pm - Lunch
5:15 pm - Dinner
6:00 pm - Weekend Arrivals
7:00 pm - Welcome and Devotions
Saturday:
8:15 am - Breakfast
10:00 am - Worship
11:00am - Camp Store Open
12:15 pm - Lunch
1:00 pm Optional - 10 min. chair massage ($10 add-on fee)
5:15 pm - Dinner
7:30 pm - Reception and Fellowship Time
Sunday:
8:15 am - Breakfast
12:15 pm - Lunch
Departure by 3:00 pm
Health/Wellness Considerations
Please take the health and well-being of others, particularly those who may have compromised immune systems, into consideration when evaluating your own health prior to a retreat/event at Lutherlyn. While we certainly would love to have you here, we do not want others to get sick while attending a retreat. 
When sharing a cabin/sleeping space and meeting rooms with people from other households, it is important to consider multiple factors prior to arriving at Lutherlyn. If you have symptoms that indicate you could have a contagious illness (fever, vomiting, diarrhea, congestion, etc.) that could transmit to others, please cancel your reservation for a full refund. 
Lutherlyn will issue a full refund for ALL medical related cancellations. 
Anyone who tested positive for COVID-19 up to 10 days prior to the start of the retreat should cancel for a full refund. To come to a Lutherlyn retreat after having COVID you must be at least 10 days past the onset of symptoms, and 48 hours fever-free with no or mild/improving symptoms.
When possible, COVID tests will be provided upon arrival and a negative test is required. Anyone who has tested positive for COVID in the past 90 days does not need to take a COVID test; you will be asked the date of your positive test when you arrive.
If symptoms develop while at Lutherlyn, please refrain from interacting with others, notify the retreat leader, and depart from Lutherlyn. A pro-rated refund will be issued.
For Lutherlyn Quilting/Crafting retreats, visitors are not permitted inside cabins or meeting rooms. Visitors are limited to visiting outdoors.
Lutherlyn General Policies
It is expected that all guests follow these guidelines. Failure to follow these policies could result in removal from camp. There are additional guidelines/policies, depending on the type of group. Those policies are outlined in the group contract or explained by the group leader upon arrival.
No pets, no alcohol, no drugs, no fireworks, no firearms.
Lutherlyn is a "Young Lungs at Play" facility. Smoking is only permitted in designated smoking areas.
Children must be supervised at all times.
Quiet time is 10pm-8am.
Vehicles are not permitted on the grass. Load and unload vehicles at the designated area for each cabin village and then vehicles must be moved to main parking lot.
There are often multiple groups on camp at the same time. Only enter the buildings/facilities that are reserved for your group. Do not enter cabins or facilities that are not for your specific group.
Vandalism or destruction of Lutherlyn's property or property of other guests will result in a bill for repairs/replacement and removal from camp.
Helmets must be worn by kids (12 and younger) when riding bikes.
Fishing is catch and release, barbed hooks must be crimped.
A lifeguard must be present for swimming and all swimming/canoeing/kayaking must be arranged in advance with Lutherlyn. No one is permitted in the lake or pool area without a lifeguard.
Ropes course/group challenge activities are off limits unless arranged in advance and facilitated by Lutherlyn staff.
Facilities
Dining:
Meals are served buffet style at designated meal times in our Dining Hall.  Drinks and lots of snacks are available all day.  Our chef can accommodate dietary needs as necessary.  Please include information regarding your needs when registering (food allergies, gluten free, vegetarian, etc.) so we may plan appropriately for your stay.  Typically breakfast is served at 8:15 am, lunch at 12:15 pm, and dinner at 5:15 pm.  Many of our crafters bring cookies, crackers, and candy to add to the snack buffet, you are welcome to do so, but certainly not required.
Accommodations:
Our cabins are equipped with central heating, carpeting, and full bathroom facilities (shower, toilet, and sink).  Each family style cabin features 6 twin beds.  Guests provide their own linens and toiletries.
A limited number of private rooms are available for an additional $20/night.  Please list "Private Room" in the Cabin Buddies field when you register, and include the extra fee in your payment.
Registration
Space is limited.  Registrations must be received by the deadline listed above.  We encourage you to use the online link below to complete your registration.  If  you have any questions or need help registering you can call the office at 724-865-2161 or email registrar@lutherlyn.com. Lutherlyn office business hours at Monday - Friday, 9 am - 5 pm.
Cancellation Policy:  
A $40.00 non-refundable cancellation fee is in effect for cancellations made within 14 days of the scheduled retreat.
Pricing:
There are a variety of pricing options, based on meals and lodging. The weekend price (Friday after dinner through Sunday after lunch) is $130/person and the price for the whole week (Tuesday afternoon through Sunday afternoon) is $330/person. There is a commuter option and the opportunity to customize your arrival/departure. Private rooms are available for an additional $25/night.
Schedule
Each of Lutherlyn's Crafting Retreats follows a similar schedule.  You can choose to arrive as early as 2:00 pm Tuesday afternoon and the retreat concludes after lunch Sunday.  Friday evening after most of our weekend crafters arrive we enjoy group devotions.  Saturday afternoon features the option of a 10 minute chair massage.  Chair massages are $10 (not included with the cost of your stay) and guests pay the massage therapist directly.  Saturday evening (on occasion it's Friday evening) includes a tasty seasonal snack.  Saturday or Sunday morning a worship service is held for those who wish to attend.  These worship services are typically led by a volunteer pastor and usually feature guitar accompaniment with hymns.  The rest of your stay is up to you!  You can stay up late, sleep-in, or be an early riser.  Many of our guests also take short trips to local quilt shops and stores.  
How to get to Lutherlyn
Please only enter Lutherlyn's grounds via our main entrance from Dick Road.  If you're using GPS our physical address is 500 Lutherlyn Lane  Butler, PA 16001.  Once you arrive for your stay please check in at the Dining Hall.  We have a loading/unloading area on the far side of the Dining Hall where you can unload all of your crafting supplies.  If you're staying overnight we can then direct you to your assigned cabin.  
From the West:
Take Interstate 79 to Route 422 (the Butler/New Castle exit) and head east 8.2 miles. Make a right hand turn at the 84 Lumber onto Dick Road. The main entrance to the camp is 1.5 miles down the road. The camp driveway will take you directly to the main parking lot and the camp office.
From the East:
Take Route 8 to Route 422 and head west (towards New Castle) 7 miles to the 84 Lumber. Make a left hand turn on to Dick Road. The main entrance is 1.5 miles down the road. The camp driveway will take you directly to the main parking lot and the camp office.
---
Crafting Retreat Online Registration
Lutherlyn prefers online registrations to conserve resources and to more quickly serve you.  Please register online if you are able to do so. If online registration is not an option, please call the camp office to register.
Space is limited.  Registrations must be received by the deadlines listed above.
Create an Account and Register on our Online Registration Portal
(You will be navigated to a different website where you will create a profile that can be reused from one retreat to the next.) 
Cancellation Policy:  
A $40.00 non-refundable cancellation fee is in effect for cancellations made within 14 days of the scheduled retreat. Full refund will be issued for medical reasons.