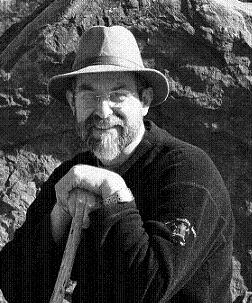 Who Do You Want Your Kids To Be?
By Rev. Randy Gullickson, Executive Director


I recently had a conversation with a mom whose son came to camp for the first time this summer. He had never been away from home before and wasn't sure that he wanted to go. Mom and dad had been campers as kids and knew that camp was a good thing. Dad said, "You're going. You can pick the program, but you're going." Later mom asked her husband, "Are we really going to make him go to camp?" And dad said, "Yes." So the boy came to camp. Sure he went through the usual first timer's homesickness, but by Wednesday he loved it. He grew. He can't wait to come back again next summer. He had a life-changing adventure in faith!
Should you make your child come to camp? Well, maybe. Consider the following: You may be able to list twenty qualities that you hope will develop in your child as he or she grows toward adulthood. Maybe you haven't actually considered it in that way. If you are like most parents, you want your kids to be "good," "successful," and "happy." You may have zeroed-in on such things as being decent, responsible, independent, resilient, hard-working, judicious, capable, socially-skilled, tolerant, caring, honest, self-motivated, persistent, drug-free, confident, realistic, creative, and faithful.
As parents we are responsible for the holistic well-being of our children: physically, mentally, emotionally, and spiritually. We need to be sure that our kids get an education, that they eat well and get plenty of exercise, that they learn to deal with and constructively express their feelings, and that they develop and mature socially, that they identify and develop their gifts and work to their potential. We make promises at their baptism that we will raise them in a way that allows faith in God to take root and grow through involving them in the life of the church, teaching them the basics of the faith, and by our own example.
No matter how our culture changes, how electronic we become, or how sophisticated we think we are, our kids still have basic needs that must be met if they are to grow in the ways that wise parents hope for. They need to learn responsibility; to eat their vegetables; to do their homework; to get back up when they fall; to clean up after themselves; to respect the planet; to step out of their comfort zone in order to discover their own strength and potential; to learn to live, work, and play well with others. Truth is, kids don't always know what is good for them and that is why adults need to guide, encourage and sometimes push them to enter the "growth zone." That is what gives them a shot at growing up to be good, successful, and happy.
Camp provides experiences that are unique in our culture. Kids spend a week away from home – often for the first time in their lives. While counselors make it easy for campers to get to know one another, kids still need to learn to get along in a situation in which they live with their peers. "Give and take" and compromise rise to new levels of importance. Sharing, accepting and teamwork take on new dimensions as they play, eat, plan, work, learn, worship, solve problems, study, share, and grow together. Many campers talk about being "themselves" at camp instead of being who they have to be at school in order to "fit in." Camp is for self-discovery, for learning to get along on your own merits, for finding your own niche, for testing your own gifts, for pushing the edges of your comfort zone, for navigating homesickness as a rite of passage, for living into the faith you have been taught. Camp is the last best place for kids to play in the woods and just have fun. All of this in a safe place where everyone is committed to each child's success and well-being.
A week at Lutherlyn is an important investment in a child's future. Lutherlyn addresses all these aspects of personhood and more. Here children learn and develop skills – outdoor living, water sports, horseback riding, aviation, crafts, the arts, social skills, decision-making, living well with peers, and so on. Here they expand their comfort zones on the ropes course, the mountain bike trail, in front of a group, and in relationships. They eat wholesome meals sitting down with friends, tableware, and manners. They get lots of exercise from sports, creek walks, hiking, climbing, and just "getting from here to there." Here they find their feelings respected and they know that they are listened to and cared about. They worship, pray, study, discuss, and grow spiritually. They practice living with "open hands." In this community of faith, they "get it."
Should you make your child come to camp? That, of course, is up to you. But remember that Lutherlyn has been helping parents build a solid foundation of life-skills and faith under the lives of their children for 61 years. The good stuff is still here…for your kids!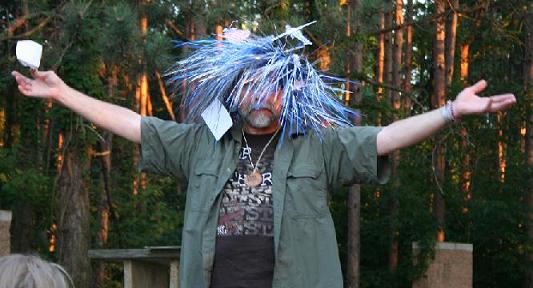 The Director's Notebook: 2011 Newsletter
By Rev. Randy Gullickson, Executive Director


"You know well enough how the wind blows this way and that. You hear it rustling through the trees, but you have no idea where it comes from or where it's headed next. That's the way it is with everyone 'born from above' by the wind of God, the Spirit of God." ~ Jesus via John
The Winds of Change are loose in the world and they are blowing at Lutherlyn.
The wind blew through camp in a very tangible way as, on a Monday in July, a microburst blew down 28 huge spruce trees on the east side of Dick Road including the ones directly across from the camp entrance. It also took down some trees on our side of the road, all the utility lines on both sides of the road, and broke 9 utility poles. This has radically changed the drive into and out of camp. Many other less obvious trees also came down that week. We miss those trees, but we're getting used to it.
A little more figuratively, but no less dramatically, the winds of change have brought Lutherlyn new climbing and bouldering facilities and new mattresses and this is exciting to campers of all ages! We're still getting used to people talking about our comfortable beds.
Most critically, The Wind – the one Jesus is alluding to – is also blowing through camp. For quite a number of years, now, we have watched and worried and fretted and experimented in response to "what is happening to our church." I have been evaluating symptoms, puzzling over chickens and eggs, cause and effect. So many obvious things. So many elusive connections. So much volatility. What is there to be done?
The biggest block has been that so many people are either unaware or are in denial that the world has changed. For instance, the world I was born into in 1951 doesn't exist anymore. In those days the vast majority of Americans were engaged in their Christian faith and involved in a church. Whether we know it or not – believe it or not – that's just not how it is anymore. For me, the old world was officially pronounced dead last week by John Roberto. He is an amazing man with a gift for absorbing and digesting information – trends, research, news, scholarship – about "faith formation," making sense of it, and helping the rest of us understand it.
Here is the situation: we are trying to live in a "new world" using an "old world mindset." What that means is that the way we continue to do ministry – curriculum, worship, Sunday school, communication, confirmation, camp programming – is still built on the conviction that most people are engaged in the faith and involved in the church. And if they are not, well, it's because they are making bad choices or rebelling against the way they were brought up and the problem is theirs and they need to change.
For any number of reasons, the simple truth is that most people are not engaged in the faith and active in the church. There is plenty of blame to go around and mostly it has to do with 100 years of big changes in our culture over which we have no control – and really, nobody has done a very good job of keeping up with it all.
The important thing to know is that most Americans today fall into two categories – categories that we have observed and complained about, but not really taken seriously as a missional challenge. Most people today are "spiritual but not religious" or are "somewhat religious, but not involved."
Here's the challenge that the Spirit has blown into Lutherlyn: Adapt! If you have been struggling with the symptoms as I have over the past decade or more, you may have finally come to realize that no person has THE answer. "Solutions" require us to implement some "best practice" or other and make the problem go away. Adaptation is not about that. Adaptation requires us to change our way of thinking, our ways of doing things, and even our understanding of God in our lives. The church has faced each of these challenges many times in its history. We no longer have a "flat earth" point of view. We ordain women. We no longer believe that God gives us leprosy as punishment for sin.
At Lutherlyn we have begun to identify our "adaptive challenges" and we will be making some changes over the coming years. Some may not even be noticeable. Others might be obvious. Our goal is to be become as open and inviting to the inhabitants of this new world as we can be. That is, of course, exactly what Jesus did and calls us to do. That is what it is to be church.