2021 HIKE-A-THON!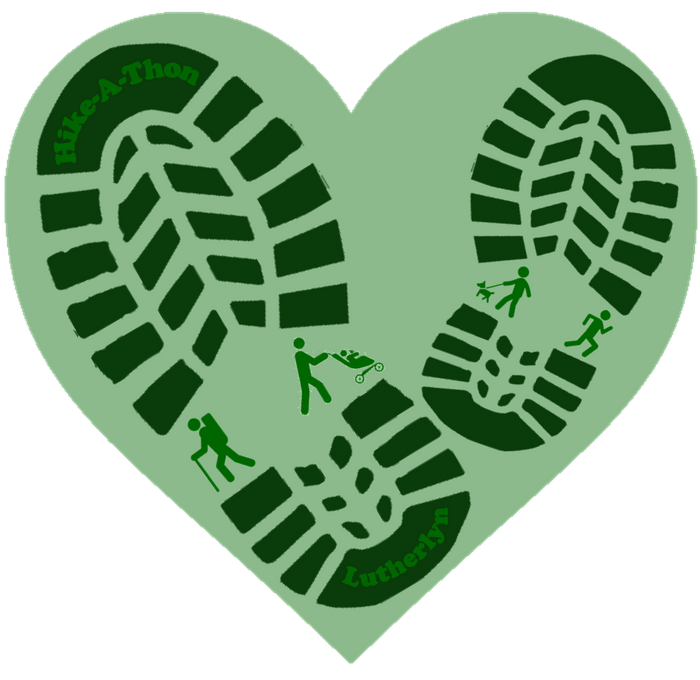 Want to enjoy the great outdoors while supporting Lutherlyn?
THIS IS YOUR CHANCE!
Whether you choose to run a few miles all at once on one day, track your morning walk around the block with your dog every day, or you just want a reason to get outside and get moving, you can use your miles to support Lutherlyn's Annual Fund (which provides important things like camperships!) while enjoying the great outdoors. 
So run, walk, jog, wheel, hike, or ski your way through October and join other "camp people" in supporting Lutherlyn!
---
Ways to Participate
We are leaving a lot of the details up to you!  You can sign up to participate (with a $10 entry fee/donation) as a casual entrant, a pledge-per-mile entrant, an "I want to see if I can achieve a new best time" 5K entrant, or really anything else you can think of!  You can use this as an excuse to explore a new trail near you or as a great reason to visit Lutherlyn this fall. 
While we are adding a little bit of competition by awarding a tiny prize for the participant who receives the largest number of sponsors it is really just about having fun, being active, enjoying the outdoors, and showing camp some love. 
You can sign up as an individual or as a family.  Each participant who gathers 5 or more sponsorships (either one time or per mile...we're not picky) will be tracked on our leader-board and will be in the running for a custom name-tag "tree cookie", a $25 camp store gift certificate, and most importantly - bragging rights!  
---
Event Schedule
September: Registration opens
October 1 - 31: Walk, run, jog, push a stroller, skate, or ski as much or as little as you wish.  You're welcome (but not required) to share your mile count, best time, total number of sponsors, total dollars raised, and/or photos and selfies taken while enjoying the great outdoors!  
November 4: All donations due (Send to Lutherlyn, PO Box 355, Prospect PA 16052)
November 8: Lutherlyn will tabulate and share the results!
---
Location
Again, we are leaving this up to you.  You can walk around your neighborhood, run a track, explore a state park, or take advantage of Lutherlyn's beautiful trails...or anywhere else you want!
Participating in the Hike-A-Thon Fundraiser is a great opportunity to visit Lutherlyn and enjoy the trails!  
Lutherlyn has several "Open Trail Days" scheduled to help you meet your goals:
Saturday, October 2nd  10 am - 3 pm
Sunday, October 3rd  dawn - dusk
Sunday, October 10th  dawn - dusk
Saturday, October 16th  10 am - 3 pm
Sunday, October 17th  dawn - dusk
Saturday, October 23rd  10 am - 3 pm
Saturday, October 30th  10 am - 3 pm
Sunday, October 31st  dawn - dusk
For other days Hikers must pre-schedule their visit by calling the office at 724-865-2161 or emailing development@lutherlyn.com.  Social distancing from other hikers and staff is required and masks are required when inside a building (including the bathroom). The bathroom building near the Environmental Education Center and parking lot will be open. Trail maps will be available on the office porch.  As always, pets are not permitted at Lutherlyn's grounds and facilities. 
---
Fundraising
How does a hiker/walker raise money for Lutherlyn?
In addition to the $10 donation you made when you registered, participants are asked to reach out to their friends, neighbors, co-workers, or anyone else they can think of for sponsorships.  You can ask people to sponsor you with a one time gift, a per mile pledge, or you can set a distance or time goal for yourself and ask for sponsors to make a gift if you reach your goal.  It's really up to you.  You can ask as few or as many of your acquaintances as you can to sponsor you, and just to add a little fun, camp has promised to provide a custom tree-cookie name tag and $25 Camp Store gift certificate to the participant who gathers the greatest number of sponsorships (minimum of 5).  
How does a hiker collect the money?
You can either collect donations of cash and checks (tallied on the tracking sheet you'll find all the way at the bottom of this page) - or you can refer your sponsors to make their gift quickly and securely at Lutherlyn.com/sponsorme.  If you are a Facebook user, you can create an online fundraiser where your friends can give if you would like.
How are the funds raised going to be used?
Each and every gift will support Lutherlyn's Annual Fund, which provides Camperships for campers who would otherwise be unable to attend summer camp programs at Lutherlyn.  Several decades ago Lutherlyn made the promise to never a turn a child away from summer camp for financial reasons.  Thanks to events like the Hike-A-Thon and generous people like you, this promise has never been broken!!
---
To register as a participant please complete the Hike-A-Thon Registration Form below.