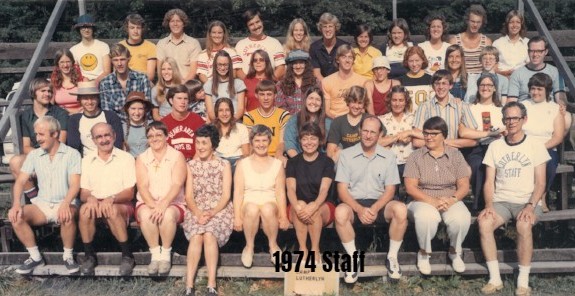 CALLING ALL FORMER STAFF!!
Summer 2018 will be Lutherlyn's 70th year of summer camp programs!  To help commemorate this momentous occasion we're inviting all former staff members (both summer staffers and year-round staff) to celebrate together at an All Staff Reunion on June 9th, 2018.  
We'd like to start a tradition of reunions (perhaps every 5 or 10 years), so we need your contact information.  We are working to compile a database that includes contact information and some basic info about your position/years on staff so future events for different eras of staff can be planned or integrated into existing events.
Please take a moment to complete the form below to ensure you're included in future staff events and updates!  Additionally, please SHARE, SHARE, SHARE, this information and request with any former staff members you may have remained in contact with.  We're hoping to reach as many former staff members as possible!  This page's address is a quick link and can be shared by using www.lutherlyn.com/staffinvite
Thank you, and we can't wait to see you next June!
P.S.  If you're a Facebook user, we have many former staff groups.  We encourage you to join the group(s) that reflect the years you were on staff.  You can find them by searching the group names below:
   Lutherlyn Past Staff - 1948 - 1959
   Lutherlyn Past Staff - 1960 - 1969
   Lutherlyn Past Staff - 1970 - 1979
   Lutherlyn Past Staff - 1980 - 1989
   Lutherlyn Past Staff - 1990 - 1999
   Lutherlyn Past Staff - 2000 - 2009
   Lutherlyn Past Staff - 2010 - 2019