GEOLOGY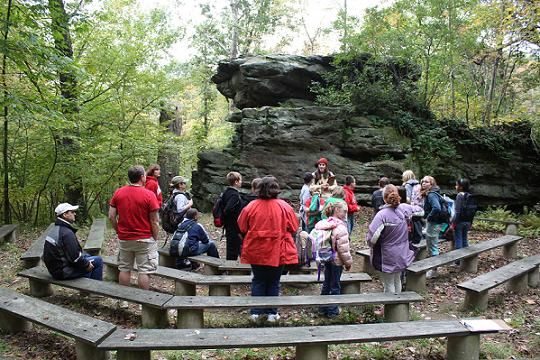 Geology Hike
Duration: 1¼ - 1½ hours
Grade Level: 4th - 12th
Standards: 4.1.10, 4.7.7, 3.4.4, 3.4.7
This activity introduces students to several different facets of geology, including land formation, geologic history, and rock formation in western PA. Students hike to a large rock outcropping and explore it as they climb to the top (weather permitting). They then discuss how the rock was formed and how it was affected by glaciers during the last Ice Age.
Soil Study
Duration: 1 - 1¼ hours
Grade Level: 4th - 12th
Standards: 4.1.7, 3.4.4
In this activity, students visit various locations to study soil types. Students use soil keys to identify soil type and use pH kits to determine soil acidity. Students also conduct investigations to determine soil infiltration rates.
Water Cycle
(see Water section)
Weather Study
Duration: ½ - ¾ hour
Grade Level: 3rd - 12th
Standards: 3.4.4, 3.4.7, 2.3.5
Students use equipment such as thermometers, psychrometers, barometers, and anemometers to measure weather factors and make forecasts. Overnight groups have the opportunity to measure weather at different times during the day.