2020 Family Weekends
We are happy to offer Family Weekends at Lutherlyn. Lutherlyn offers clean and comfortable cabins on 660 acres for families to enjoy some time away. It is expected that all families follow the guidelines outlined here for the health, safety, and enjoyment of all guests. Thank you!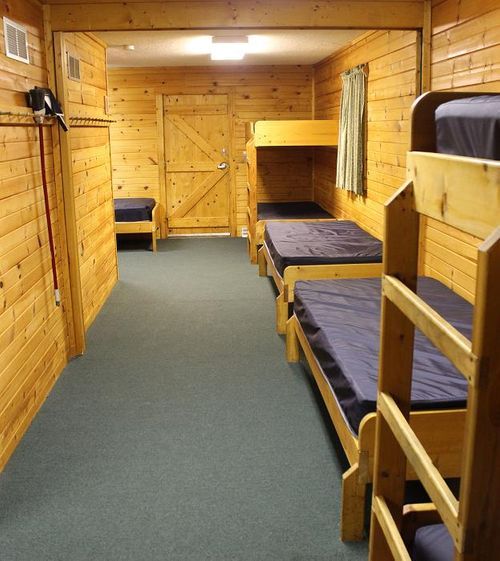 WEEKEND DETAILS:
Families are invited to spend a weekend away at Lutherlyn. Each family will have their own cabin and will be expected to practice social distancing from other guests and staff. Please understand that this is an opportunity to spend time at camp but it will not resemble a week of summer camp. Parents/Guardians will be responsible for the supervision of their children. Must register by the Monday prior to arrival.
DATES:
Sept. 4-6 LABOR DAY WEEKEND
Sept. 18-20
Sept. 25-27
Oct. 16-18 (Lutherlyn's Halloween Family Fun Day is on Oct. 18 - must also make a reservation for Halloween event if participating)
Oct. 23-25 (Lutherlyn's Halloween Family Fun Day is on Oct. 25 - must also make a reservation for Halloween event if participating)
PRICES:
$150/family - one family (that resides together) in one cabin for Friday and Saturday night
OPTIONAL ADD-ONS:
$40/adult (age 13 and older) - 4 meals (Saturday breakfast & lunch, Sunday breakfast & lunch)
$25/child (age 12 and younger) - 4 meals (Saturday breakfast & lunch, Sunday breakfast & lunch)
$25/family – Tractor-drawn wagon ride
$40/family – Guided Nature Activity
CABINS:
Each carpeted cabin has 2 full bathrooms, 12 twin beds (8 bottom bunks & 4 top bunks), a porch, and a picnic table. Bring your own bedding, pillows, towels, and toiletries.
WHAT TO BRING:
Personal Items                       
Bedding (twin)                          
Pillows                                       
Towels                                       
Toiletries                                  
Cooler/snacks                        
Lighter/fire starters
Camping Chairs
Fishing Gear (crimp barbs on hooks)
Bikes
Roasting Sticks
Games/Hobbies
Box Fan (no window AC units – electricity cannot support)
MEALS:
Breakfast and Lunch on Saturday and Sunday can be purchased from Lutherlyn (must be ordered at time of reservation). Meals will be "grab & go" and will be picked up at the dining hall at 8:30-9:00am and noon-12:30pm.
Saturday Breakfast – Coffee Cake, yogurt, whole fruit, cereal, milk, juice, coffee, tea
Saturday Lunch – Chicken patty sandwich, pretzels, fruit, veggies, cookie, drink
Sunday Breakfast – Cinnamon Rolls, hard boiled eggs, whole fruit, cereal, milk, juice, coffee, tea
Sunday Lunch – Ham & cheese sandwich, chips, fruit, veggies, cookie, drink
Everything needed for grab & go meals will be provided (plates, napkins, condiments, plasticware, etc.). Grab & go meals are nut free and made in a nut free facility. We are not able to accommodate other dietary restrictions at this time.
Lutherlyn will provide a list of local carry-out options.
Families are welcome to bring meals. THERE WILL BE NO ACCESS TO A FRIDGE OR MICROWAVE. Ice will be available. You may bring your own grill or cook over a campfire.
There is a picnic table at each cabin and several picnic shelters and groves around camp. Picnic Shelters are first-come-first-serve.
Please DO NOT bring a mini fridge for your cabin. The electricity cannot support it.
Detailed instructions for meal pick-up will be provided in the Welcome Bag.
CHECK-IN PROCEDURES:
Lutherlyn will contact you the week of your stay to get your anticipated arrival time. Check-in is from 1-8pm on arrival day. Check-in on the office porch with a mask on. Staff will direct you to your cabin and indicate where to unload and park. Lutherlyn DOES NOT provide keys for the cabins.
CHECK-OUT PROCEDURES:
Prior to departure, please take all trash and recycling to the dumpster behind the dining hall. Make sure cabin lights are turned off and cabin doors are closed. Departure is by 3pm.
WIFI & CELL SERVICE:
Cellular service on main camp is generally good but the WiFi is weak. WiFi instructions will be included in your Welcome Bag but please do not depend on WiFi during your stay.
AVAILABLE ACTIVITIES/FACILITIES:
Upon arrival, each family will receive a Welcome Bag with a map, activities, and details for the weekend. It is expected that families participate in these activities with their own family and appropriately distance from other families. Activities are not staffed (unless noted) and children must be supervised by parent/guardian.
Gaga Ball                 
Hiking
Prayer Path                                               
Basketball
Fishing (bring gear, crimp barbs on hooks)                                
Biking (bring bike)
Crafts (supplies provided)                    
Corn Hole
Ladder Golf                                               
Disc Golf
Geocaching (list provided)        
4-Square
Family Devotions/Worship (booklet provided)
Discovery Room (1 family at a time)
Campfire – Fire circles are available on a first-come-first serve basis. Firewood is provided. Bring lighter & fire starter.
Pool - $40/family for 90 minutes. Must register for pool in advance. Lifeguard must be present. The pool will be divided into 4 sections and 4 families will be assigned to the pool at a time; each in their own section. Time will be given at check-in.  Space is limited - 16 families/weekend can make a pool reservation. Pool closes on Labor Day. 
Family Wagon Ride - $25/family for tractor-drawn wagon ride (20-30 minutes). There will be 2 families on the wagon at a time, one in the front and 1 in the back. Must register in advance. Time will be given at check-in. Space is limited - 6 families/weekend can make a reservation.
Guided Nature Activity - $40/family for 1-hour private guided nature activity with one of Lutherlyn's Environmental Education Instructors. Must register in advance. Time will be given at check-in. Space is limited - 10 families/weekend can make a reservation.
Camp Store – The camp store will be open upon arrival and for 1 hour on Saturday and 1 hour on Sunday for clothing, sundries, snacks, and drinks.
Due to Social Distancing and staffing limitations, the following activities/facilities will not be available: Swimming lake, canoeing, volleyball, Recreation Building, archery, group challenge course, high ropes course. There will be no access to buildings other than your own cabin. Public bathrooms will not be open, please use the bathrooms in your cabin.
CANCELLATION POLICY:
All fees must be paid when the reservation is made.
Cancellations more than 2 weeks in advance will result in a refund minus a $25 cancellation fee. 
Cancellations within 2 weeks of arrival are non-refundable.
Refunds will be issued for medical cancellations.
Rain or shine - Inclement weather will not result in a refund.
If wagon ride, pool, or guided hike is cancelled due to inclement weather, a full refund for those activities will be issued.  
GENERAL POLICIES:
It is expected that all guests follow these guidelines. Failure to follow these policies will result in removal from camp.
No pets, no alcohol, no drugs, no fireworks, no firearms.
Registered campers only, no visitors.
Lutherlyn is a "Young Lungs at Play" facility. Smoking is only permitted in designated smoking areas.
Quiet time is 10pm-8am.
Helmets must be worn by kids (12 and younger) when riding bikes.
Fishing is catch and release, barbed hooks must be crimped.
Children must be supervised at all times.
A lifeguard must be present for swimming. No one is permitted in the lake or pool area without a lifeguard.
Ropes course/group challenge activities are off limits.
Vehicles are not permitted on the grass. Load and unload at the designated area for each cabin village and then vehicles must be moved to main parking lot.   
SPECIAL CONSIDERATIONS:
If a registered camper has a fever, has tested positive for COVID-19, or has been exposed to someone who has tested positive, contact the camp office to cancel. You will be fully refunded.
Wash your hands frequently and thoroughly.
Maintain appropriate social distancing, per CDC guidelines.
Be mindful of using shared spaces to avoid contact with other campers.
All guests must wear face masks in areas with other campers and staff.
If a registered camper develops symptoms of COVID-19 while onsite, it must be reported to staff immediately.
Attendance and participation is at your own risk. Lutherlyn is not liable for any contact or health risks.  
CLEANING PROCEDURES:
Lutherlyn's cabins and facilities are cleaned regularly following the recommendations from the CDC. Cabins are cleaned and disinfected prior to arrival. For the safety of the staff, there is a mandatory "rest period" of at least 24 hours after departure before cabins are entered and cleaned. Staff will not enter cabins while guests are staying in them. If there is a maintenance concern in a cabin, we will work to help you address the concern or we will move you to a different cabin.
Common space and public restrooms are disinfected daily.
Proper food handling procedures, per the Department of Health, are followed in the kitchen/dining hall.
EMERGENCIES:
A staff member will be on-call at all times. The emergency phone number, hospital directions, and 911 instructions, will be included in your Welcome Bag.
RESERVATIONS:
Reservations can be made at lutherlyn.campbrainregistration.com. This is the same reservation system that is used for summer camp registrations; if you have registered online for summer camp in the past, you already have a CampBrain registration account. If you have not registered online in the past, you will need to create an account.
The registration deadline is the Monday prior to arrival.
Please call the camp office at 724-865-2161 or e-mail registrar@lutherlyn.com with questions.