Therapeutic Riding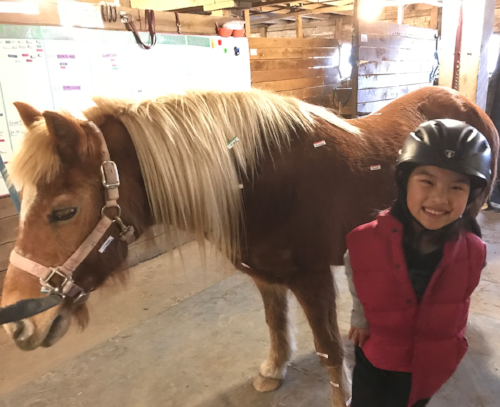 Lutherlyn Therapeutic Riding (LTR) is opening its gates to serve students with a variety of needs. The program is founded on one of Lutherlyn's main goals: to encourage mental, emotional, and physical growth and renewal for the whole person. Success is dependent on the commitment of volunteers. We welcome students and volunteers to our program and hope you will love it with the same passion we have for providing this service.
Therapeutic riding programs offer horseback riding opportunities to students who may not be able to participate in such activities at a regular riding stable. We are able to serve students with many types of special needs ranging from cognitive and behavioral, to physical, or combinations of those needs. Horseback riding helps these students in many ways. Riders learn communication skills, cooperation, and acceptable social behaviors, as well as care and responsibility for another being. Horseback riding exercises and strengthens muscles, improves tone and stamina, increases balance, and relaxes tightness and spasticity. Additionally, horses provide a type of therapy that cannot easily be explained or reproduced by humans.
Therapeutic Riding Students will learn Grooming, Tacking, Horsemanship, and Horseback Riding skills at a pace that suits them. Lessons, teaching methods, and equestrian skills are adapted to make learning fun and effective. All lessons are conducted in a safe and supportive environment with wonderfully trained horses that are carefully selected for each rider. Lutherlyn provides year-round riding opportunities in a variety of settings: a spacious indoor arena, outdoor areas, and fields or trails. Volunteers are available to help ensure the safety of students when necessary. A ramp allows access for wheelchairs or students with limited mobility or flexibility.
The benefits of Therapeutic Riding are almost limitless, but some include:
Physical benefits 
Strengthen core muscles
Improve balance and coordination
Improve gross and fine motor skills and motor planning
Increase body awareness
Increase stamina, flexibility, and overall physical fitness
Cognitive benefits 
Improve communication
Improve decision making skills
Improve planning and problem solving skills
Encourage independent thinking
Provide positive sensory stimulation
Social and Behavioral benefits 
Encourage empathy, kindness, and appropriate expression of emotions
Interaction and bonding with the horses, instructors, volunteers, and other students in a positive and appropriate manner
Improve leadership and teamwork skills
Encourage self esteem and pride in accomplishment
Increase responsibility
---
Private Lessons
Riders will work one-on-one with an instructor on horsemanship and horseback riding skills.   Lessons can be tailored to the exact needs of each student.  Lessons will be goal-oriented and progress at a pace that is suitable to the rider.  Goals will be discussed prior to starting lessons and re-assessed periodically as needed.  Volunteers will be utilized when needed for the safety of the rider.  Private lessons are recommended for students that do not learn well in groups, need significantly more time or attention than can be given in a group setting, or riders who are more advanced or independent and want to progress further in their riding skills.  Private lessons are available in two options. Half-hour lessons are $25 and will work on ground skills OR riding skills.  One-hour lessons are $50 and will consist of both ground skills AND riding skills in each lesson on most occasions.
Semi-Private Lessons
Semi-private lessons consist of 2-3 riders and an instructor, with volunteers as needed.  Lessons will be tailored to the goals of the students, and teamwork will be encouraged.   Semi-private lessons are recommended for more independent riders who are working to progress their horsemanship skills and want to share their experience with fellow equestrians.  Semi-Private lessons are $35 for one hour and will consist of both ground and riding skills in each lesson on most occasions.
For inquiries about programming or to schedule lessons, please contact Teresa at 724-996-4577.
---
Volunteers
LTR  is looking for friendly, dedicated people to help with our program. Many positions are available and no horse experience is necessary! You can help us work with riders who would otherwise be unable to participate in equestrian activities. You can play a part in helping them achieve their goals while building self-confidence and independence. It's a fulfilling, fun, weekly 'horse fix' and great exercise!
Volunteers are needed in the evenings throughout the week, and many positions are available to participate in depending on your experience, skill, and comfort level.  Volunteer training will be provided for all volunteers, and our friendly staff is happy to help you along the way as well. 
Volunteer Requirements
Volunteers must be at least 14 years of age.  Junior Volunteers (under 14) will be considered on a case-by-case basis and must be accompanied by an adult. 
Volunteers must adhere to volunteer dress code (barn-appropriate clothing), rules, and code of ethics as provided in the volunteer packet.
Volunteers must be friendly, responsible, and respectful.
Volunteers are expected to show up and be on time for scheduled shifts unless prior arrangements are made. 
Volunteer Positions
Horse Leaders and Horse Preparation - Must have prior horse experience or complete training and verify skills.  May groom and tack horses before sessions and lead horses during lessons.  May be asked to assist in horse training activities.  Must be able to walk 2 miles at a moderate pace and jog occasionally
Side Walkers - Will assist students in lessons by walking next to the horse.  Help to ensure the safety of all riders.  Must be friendly and enjoy working with students.  Must be able to walk at least 2 miles at a moderate pace and jog occasionally.
TR Arena Prep - Will help prepare the arena space before TR sessions start. 
Student Greeter - Greet students as they arrive and get them signed in.  Get their helmets and other equipment ready as needed. 
Instructor's Assistant - Help instructor throughout the lesson, especially with games and equipment. 
Barn Assistant - Help with daily barn chores.  Feeding, mucking, grooming, and leading horses are some examples of jobs you may be assigned.
Scheduling  
Volunteer Applications can be downloaded below as well as a Volunteer Orientation Manual.   We recommend reading this prior to attending training. 
For more information on volunteering, please contact Teresa at 724-996-4577.
---
Therapeutic Riding Instructor
In addition to teaching private and group lessons, Teresa Davis is our PATH Certified Therapeutic Riding Program Coordinator and instructor.  
She has a true passion for our Therapeutic Riding Program and gives riders of all skill levels and needs an engaging and enjoyable experience.  We encourage you to learn more about her experience and certifications on our staff page.  
If you have any questions or would like to discuss Therapeutic Riding lessons availability, please call Teresa at 724-996-4577.