Woodland Quilters
Quilt Shows and Traveling Quilt Auctions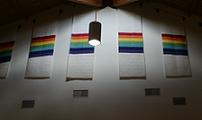 The Woodland Quilters got their humble start by one woman, Jenn McIntire, standing on a table at a woman's church retreat asking the participants for their help with an idea to make quilts to decrease the acoustics in the new dining halls. As the women listened and heard the echoes as she was speaking, they realized the idea had merit.
A number of these ladies volunteered to meet at Lutherlyn with their scraps of fabrics, scissors, rotary cutters, mats, sewing machines, or just an iron and ironing board with a desire to start this journey. Some were seasoned sewers or quilters, some were new to the sewing world, but all wanted to help.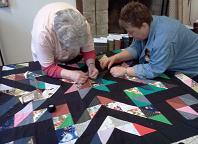 Once all the walls were adorned with the beautiful quilts, new ideas started to emerge in these work weekends. Because of their love for Lutherlyn, the Woodland Quilters started to meet more regularly and soon started hosting an annual quilt show to help raise money for the Lutherlyn Campership Fund. The Quilters also started to have an annual quilt raffle and traveling quilt auctions, selling their beautiful quilts to benefit the campers.
They consistently raise over $10,000 each year for the Lutherlyn Campership Fund! In 2012 they became the first group honored with the Cornerstone Award for their impact at Lutherlyn.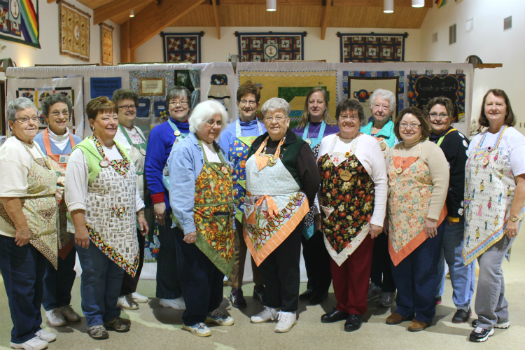 ---
Woodland Quilters' Quilt Show
Saturday, October 20, 2018 
Sunday, October 21, 2018 
Enjoy a weekend display of quilts and quilting in the autumn splendor at Lutherlyn. This show is a non-judged exhibit of the art of quilting.
Enter the show at the Dining Hall where there is a beautiful display of small quilts and other works of art. The Dining Hall also houses the flea market, make-it-take-it projects, the two quilts that will be raffled, a basket raffle, and a dream basket raffle. Our main exhibit hall is Rice Hall where there is a beautiful display of large quilts, all created by local quilters.
There is a merchant mall for you to shop and some quilts are for sale. A complete list and prices will be in the entries section of the program booklet.
No registration is required. All proceeds benefit Lutherlyn's Annual Fund.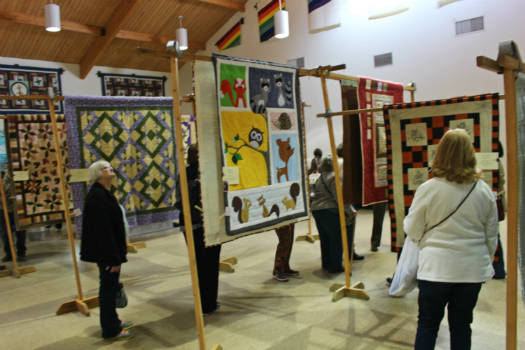 Please print and complete this form in order to enter a quilt in this year's show using one entry form per quilt. Completed forms can be returned to Gloria Yount 909 Route 68 New Brighton, PA 15066 no later than October 2nd, 2017.