Summer Staff:
-The Lutherlyn staff consists of 55 dedicated people specially trained (including First Aid and CPR) to ensure a safe, substantial, and enjoyable ADVENTURE IN FAITH!
-All summer staff participate in a 13-day intense training program to prepare them in the two weeks before campers arrive.
-A registered nurse, certified water-safety instructor, and lifeguards are in attendance at camp all summer long to provide for the health and safety of each camper.
-A criminal background check and check of the National Sex Offender Registry is completed for every staff member and volunteer.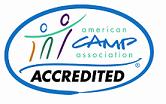 Our staff is led by Deacon Debra Roberts, Associate Director.
Lutherlyn is an American Camp Association Accredited Camp.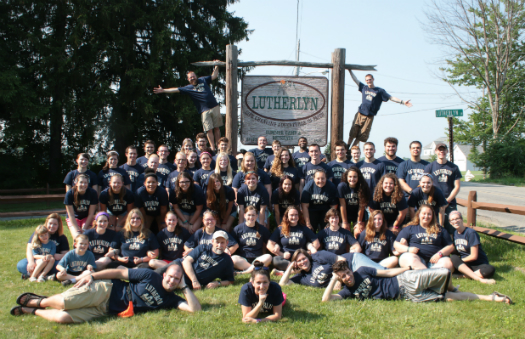 Summer Employment:
Lutherlyn is an outdoor ministry of the Evangelical Lutheran Church in America which is supported by the Northwestern and Southwestern Synods of Pennsylvania. There are twelve people on our year round staff and we hire approximately 55 people for the summer. Summer Employees do not have to be Lutheran but must be Christian. All applicants will be interviewed prior to employment.
---
Follow These Steps to Apply:
Now Hiring for Summer 2017!
1.) Read the Information Below to Learn More About the Ministry of Lutherlyn and Employment Details

4.) Once Your Application and ALL Three References Are Received, You Will Be Contacted to Schedule an Interview
If you have served on summer staff over the last two years, please complete the Returning Staff Application.
---
Who We Serve:
We welcome campers without regard to race, religion, color, national origin, age, gender, handicap or income. Campers are broken up into the following age groups:
-Day Camp - entering grades 1-5
-Young Folks - entering grades 1-3
-Juniors - entering grades 4-6
-Junior Highs - entering grades 7-9
-Senior Highs - entering grades 10-12
---
What We Do:
As a staff, we seek to provide kids with the opportunity to build healthy relationships in a Christian community, explore and learn about God and what it means to be a Christian, and experience the beauty of the outdoors. Our first priority is always the well being and supervision of campers. We operate within a small group camping model that focuses on intentional group building in cabin groups that typically consist of 6-10 kids and one counselor.
The camp week runs Sunday afternoon through Friday evening.
Typical daily activities might include: nature activities, horseback riding, games, hiking, swimming, crafts, boating, fishing, sports, creek walking, group building activities, ropes course challenge activities, Bible study, worship, campfires, sleeping out, cooking out ... and more!
---
Sample Daily Schedule*
7:30 Wake Up
8:00 Cabin clean-up
8:15 Morning Watch (devotions)
8:30 Breakfast
9:00 Unit games/Unit staff meeting
10:00 Bible Study
11:00 Ropes Course or other cabin group activity
12:15 Lunch
1:00 Horizontal Time
1:30 Swimming, hiking, crafts, etc.
2:30 Activity time for campers to choose activities individually
2:30 Camp Store Open
4:15 Skill craft time: Each staff person teaches a special skill
5:30 Dinner
6:30 Camp Game done in units
7:30 Evening event
8:30 Evening Snack
9:00 Worship
9:30 Campfire
10:00 Candle Power (evening devotions)
*The above schedule is rough and does not include the schedule for special programs, nor does it include our special all camp events. It is only a guideline and can be molded to fit the needs of each cabin.
The above schedule reflects a "Classics" schedule. In addition to the Classics (traditional) program, we offer the following programs: Night Owls (nocturnal camp), Nature Camp, Horse Camps (English and Western), Family Camp, Arts Camp, Model Rocketry, Sports Camp, Science Camp, and Day Camps. For more information on these programs, please see our summer brochure.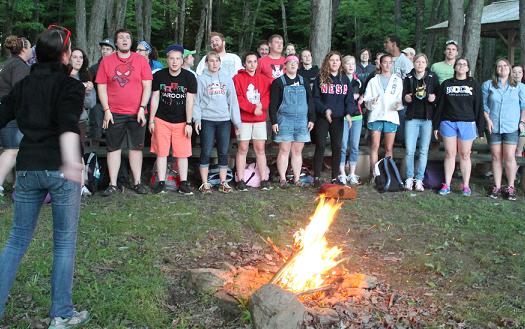 ---
Job Descriptions Summary:
Unit Leader: At least 21 years of age with camp experience and good leadership skills. Supervises counselors, organizes, plans and works with program areas daily.
Day Camp Director: At least 21 years of age. Lead the Day Camp program at each site. Supervise the Day Camp Counselors. Plan the daily schedule with the Day Camp Counselors and the Day Camp Site Coordinator. Must have driver's license and clean driving record.
Day Camp Counselor: At least 19 years of age, with special interests in working with young children, kindergarten through 5th graders. Same as a Counselor but works off-site at churches Sunday through Friday for at least half of the summer. When on-site this person is a residential counselor.
Counselor: At least 19 years of age and or have one year of college or post high school experience. Lives in a small group of 6-10 campers as their guide and role model for the week. Leads Bible studies, worship, group building and more!
Adventure Program Coordinator: At least 21 years of age. Must have experience with rock climbing, belaying, and outdoor adventure activities. Coordinate and facilitate adventure activities (on and off site). This includes: High ropes course, zip line, climbing chimney, bouldering room, off-site rock climbing, off-site biking, and other special adventure trips. Must have driver's license and clean driving record.
Adventure Counselor: At least 21 years of age . Lives in a small group of 8-10 campers as their guide and role model for the week. Leads Bible studies, worship, group building, recreation, and more. Adventure counselors will be the counselors for the Adventurers program and other programs with off-site adventures. Additional training will be provided prior to summer staff training. Must have an interest and some experience with rock climbing. Must have driver's license and clean driving record.
Waterfront Director: At least 21 years of age, holding a current WSI or equivalent. Oversees the safe operation of the pool and swimming lake as well as boating program. Leads and directs a waterfront staff of three lifeguards.
Lifeguards: At least 17 years of age, holding Life guarding certification or higher. Guards and supervises a safe pool and lake waterfront program under the direction of the Waterfront Director.
Riding Instructor: At least 19 years of age. Assists the stable manager in training, feeding, health care, equipment up-keep, and overall safety in the horse program. Assists in teaching campers proper care and riding techniques.
Cooks: At least 19 years of age. Enjoys people and cooking. Works under the supervision of the Food Service Manager. Prepares meals, assists in inventory control, carefully follows health standards and assists with kitchen clean-up.
Kitchen Assistant: At least 21 years old. Directly responsible to Food Service Manager. Oversees the work of kitchen servers, plans work schedules and assigns tasks as needed in food prep and clean-up. Welcomes and familiarizes campers with dining hall procedures.
Kitchen Staff: Must be 17 or older. Must enjoy working with people and food. Works with others to prepare, serve, clean-up and carefully follow health standards. Assists cooks in meal preparation. Includes dish washing, scrubbing pots and pans and serving meals.
Baker: At least 19 years of age. Same as Cooks, with a concentration on baking cookies, breads and desserts.
Crafts Director: At least 19 years of age, with a special interest in crafts and working with kids. Organizes, stocks, orders and maintains craft supplies for a creative crafts program. Teaches campers and staff various crafts and supervises campers while they work.
Crafts Assistant: At least 17 years of age. Assists the Crafts Director in all aspects of the crafts program.
Media Director/Photographer: At least 19 years of age. Take photos and video of campers and camp activities daily. Update the web site daily with the current photos, video, and news. Print and distribute camper mail and e-mail. Send e-mail updates to campers and parents.
Grounds Crew: At least 17 years of age. Assists the Site Manager in all aspects of grounds, facility and equipment upkeep and repair. Includes repair, farming, mowing, cleaning and general upkeep.
Gardener: At least 19 years of age. Maintain the camp garden, teach campers about gardening, lead cabin groups in planting, caring for and harvesting from the camp garden. Assist the Environmental Education Director in the execution of the camp's stewardship program.
Store Manager: At least 19 years of age. Manage the camp store and camp store accounts; run the camp store. Assist the summer registrar with tasks related to summer registration.
Staff Positions and Salaries (per week)
| Position | 2017 Salary Range | 2017 Contract Dates |
| --- | --- | --- |
| Unit Leader | $249-259 | May 29- Aug 5** |
| Day Camp Director | $221-231 | June 4-Aug. 5 |
| Day Camp Counselor | $214-224 | June 4-Aug. 5 |
| Counselor | $214-224 | June 4-Aug. 5 |
| Adventure Program Coordinator | $214-224 | June 4-Aug. 5* |
| Adventure Guide/Counselor | $214-224 | June 4-Aug. 5* |
| Riding Instructor | $214-224 | June 4-Aug. 5 |
| Store Manager | $206-216 | June 4-Aug. 5 |
| Waterfront Director | $228-238 | June 4-Aug. 5** |
| Lifeguard | $206-216 | June 4-Aug. 5** |
| Crafts Director | $216-226 | June 4-Aug. 5 |
| Crafts Assistant | $206-216 | June 4-Aug. 5 |
| Media Director/Photographer | $206-216 | June 4-Aug. 5 |
| Kitchen Staff | $206-216 | June 4-Aug. 5** |
| Residential Grounds Crew | $206-216 | May 29-Aug. 11 |
*Plus 3 days of additional training in May
**Some contracted through August 11th
The pay periods include the thirteen day staff training. Program staff will also receive first aid and CPR certification as a part of the training at no charge. Some contract durations may vary as needed. If a staff member quits or is dismissed before staff training is complete, they will not be paid for any of staff training.
Lutherlyn is a Pennsylvania State approved Work-Study site. Those who qualify may be eligible for $500-$700 in matching funds through this program. For information go to www.pheaa.org/.
Lutherlyn will conduct a Criminal Background and Sex Offender Check of all employees and volunteers. Staff who may drive camp vehicles will be required to provide Lutherlyn with Drivers License information.
---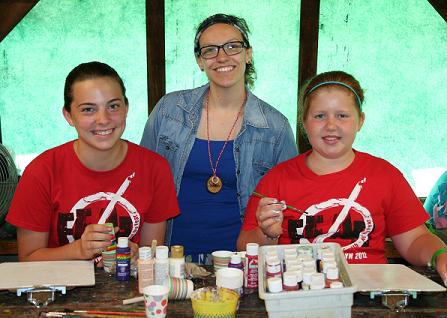 The Programs We Offer:
Click on this link to see our Program List and descriptions
---
Some Specifics for the Summer of 2017
The first two weeks of employment (June 4-16) will be spent in staff training. Staff training will include: CPR and First Aid Training, Ropes course facilitator training, group building skills, position specific skills (e.g. counseling, kitchen procedures, Day Camp curriculum), and MUCH MORE!
Camper weeks end on Friday night. Staff will be off from 10pm Friday through 11:30am on Sunday. We will work on Saturday, June 10 (middle of staff training), Sunday morning, July 2 (beginning of Family Camp), and Saturday, August 5 (last day for staff).
---
Employment Information:
CONTRACTS
Most positions are contracted from June 4-Aug. 5. Some exceptions for longer or shorter periods may apply by position.
SALARY AND BENEFITS
Each staff person receives a weekly salary plus room and board. Worker's compensation is also provided. The salary is paid every two weeks.
HEALTH FORMS/CITIZENSHIP VERIFICATION
All staff must complete a health form provided by the camp. Each employee must be able to prove U.S. citizenship or have proper visa identification.
WORKING PERMITS
Any staff member under the age of 18 is required to have a Work Permit completed and on file at the Lutherlyn office before employment may begin.
STAFF TRAINING
All staff are expected to participate in the pre-camp training program during the first fourteen (14) days of employment, unless arrangements are made prior to signing the contract.
TIME OFF
Each staff person receives 24 hours off each week. For most staff this is from Saturday at noon to Sunday at noon. In some cases the 24 hours must be granted at another time period during the week.
VOLUNTEERS
Lutherlyn is fortunate to have a strong group of volunteer staff including Camp Pastors, Grandparents, Nurses, and various resource people. Room and board is provided for these volunteers.
EVALUATIONS
Evaluations are important and helpful for personal growth and program excellence. Staff will be required to participate fully in evaluations of the program, the staff experience and personal contributions. These may be both oral and written and may occur during the summer as well as at the conclusion of the summer. A written evaluation will be required before the end of employment.
INTERNET SOCIAL NETWORKING POLICY
In general, Lutherlyn views social networking sites (MySpace, Facebook, etc.), personal websites, and blogs positively and respects the right of employees to use them as a medium for self-expression. Employees should not have inappropriate content or details about their personal life on the internet that contradicts Lutherlyn's staff policies and expectations that parents, campers, or camp administration can access.
---
Questions?
Please contact Deb Roberts (deb@lutherlyn.com or 724-865-2161) with employment questions.