Equestrian Summer Programs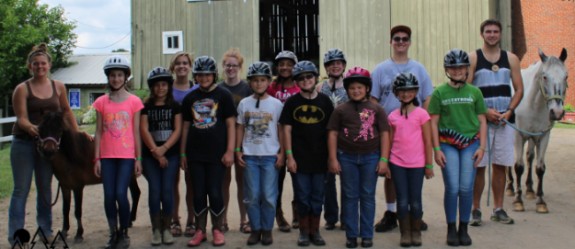 ---
Residential Summer Camp Programs at Lutherlyn
Enjoy a fantastic week of learning about horses, improving your skills, and riding in a beautiful setting! Instruction is offered for riders of all abilities by instructors that are certified through the American Association of Horsemanship Safety.
All horse camp programs spend their "non-horse" time doing lots of great Classic Camp activities! Horse camp is designed to allow campers to progress in their riding skills. Each camper can progress through the levels of horse camp by demonstrating competency in their riding skills. After returning home, each camper will receive a certificate informing them of the level that they will be able to attend the next summer.
First-time junior campers (grades 4-6) will start at Level 1. First-time Jr. High and Sr. High campers (grades 7-12) will start at Level 2.
If you are not sure which level you are, please contact Carla (stables@lutherlyn.com or 724-496-5535).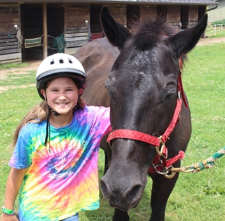 Level 1 - Three hours of horse time each day. Learn basic horsemanship and riding skills and begin to prepare for more in-depth riding techniques. All first-time Junior Horse Campers will start at Level 1. Juniors (Grades 4-6)  

Level 2 - This camp is designed to "fine tune" the basic riding skills learned in Level 1 and give campers the necessary skills to prepare for trot work! Campers must have successfully completed Level 1 or be first time Jr. High or Sr. High Horse Campers. Juniors (Grades 4-6) Jr. High & Sr. High (Grades 7-12) 

Western Games - Explore the American way of riding. Practice current western games (barrels, pole bending), learn the history of the sport, and enjoy our beautiful trails. Level 2 & 3. Jr. High & Sr. High (Grades 7-12) 

Visit our Summer Camp pages to view this summer's schedule of programs or to register your camper.
---
Summer Riding Day Camp
July 2, 3, 5, & 6, 2018
August 6 - 9, 2018
The August session is for beginner and intermediate level riders as young as 7 years old.  No prior experience is necessary and students will have mounted and unmounted lessons, enjoy crafts, and horse-related games.  
The July session is open to riders who have their own horses and are looking to advance their knowledge and skills.  Lessons will be both mounted and unmounted.  Riders must be comfortable riding in the open, on trails, and in fields.  
Lunch is provided for all 2018 sessions.  Each day will begin promptly at 9:00 am and conclude at 3:00 pm.
You can learn more or register at lutherlyn.com/ridingcamp.
---