Lutherlyn Equestrian Center
The Lutherlyn Equestrian Center strives to provide children/people with a safe and positive learning experience. We want them to leave our facility feeling confident about the experience they had here. Many of our horses have spent their lives teaching children the joy of riding.
Our facilities include a bank barn and a 20 shed row style barn with 10x10 box stalls, a heated tack room, sand 85x150 indoor arena, a stadium jumping field, a cross country course of Intro-Novice, and miles and miles of beautiful trails.
We are excited to offer Therapeutic Riding lessons with PATH Certified Instructors Katey Simons and Teresa Davis. Check out the Therapeutic Riding page to learn more.
---
---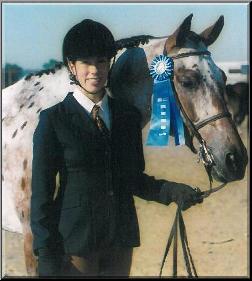 Our Equestrian Program Director
Carla Babcock has been the head of the Equestrian Program at Camp Lutherlyn since 2006. She is a certified clinician through the American Association for Horsemanship Safety, and strives to teach solid basics to the area youth. Carla has been riding since she was nine years old and competing in English riding since the age of 12. She regularly teaches for United States Pony Club and 4-H. She has a passion for dressage and eventing.
Before taking her position at Camp Lutherlyn, Carla worked at Glade Run Lutheran Services as a group therapy planner and facilitator. She has a bachelor's degree in Social Work and Criminology from Slippery Rock University.
You may contact Carla with any questions, donations, or reservations by calling 724-496-5535 or e-mailing her at stables@lutherlyn.com.
---
Meet Our Horses!